The short answer goes:
No, of course you can't!
Once upon a time, I got the possibility to read a test strategy document written by a business colleague of mine. The strategy was a 47 pages document that tried to cover all aspects of testing that I guess would apply to all projects; because in the beginning of the document, it was stated that the strategy is "… generic in nature and should apply to any I.T. project."
If you try to interpret the statement above, it means that the strategy is non-specific and there is no project that this strategy would not be applicable for.
How is that possible? And why would it even be interesting to use such strategy? And for whom is this strategy?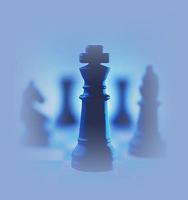 Would you trust your national army if they had a generic strategy that should apply for all wars? Could it be so that combat situations, terrains, opponents, stakes, etc could differ?
Would you feel confident in your company's marketing department if they had a generic strategy that should apply for all future marketing engagements?What if you had a generic strategy for playing chess and not adapt to your opponent moves? A strategy that would treat each game same as the others.
What if you had a generic strategy for raising and fostering your children? Or what if you had a generic strategy for how to interact with your colleagues? What if these two strategies were the same, since they are generic and would apply to any human social interaction?
Is there a chance that other people might think that you are strange if you had one generic social interaction strategy?
The context differs between different projects; and the context often changes during a project.
We would be doing all project stakeholders and members a favour if we designed a test strategy that was driven by the current project context; a test strategy that would be updated whenever the context changes. That is, a test strategy that is specific to this project and is therefore only applicable to this project.