When I meet testers I often ask what test design techniques they use on a regular basis. I am really curious which of the techniques that I know of that they use and I am always looking for new material. I have taught test design classes to maybe a thousand people over the years and I keep asking for THEIR examples of applying techniques after the class is over. So far I cannot remember having received any specifics at all. So I am starting to wonder..
There is so much talk about test ideas, heuristics and lists and although these are wonderful new ideas, I am afraid that we are forgetting a core skill that can be very rewarding. One of my favorite techniques is state modeling. The ISTQB foundation class shows you a table or a graph and you need to identify what series of events are possible. This is much like the puzzles for children where they have to help the dog find the bone in the maze. Well, no surprise, this is just their way of simplifying something beautiful to total pointlessness. So let me tell you how it can be done better.
A project I am currently is an application for administration of scientific reports. A researcher sends their report to an editorial board which then assigns an editor and a numbers of referees. Then the evaluation process starts and reports come in. It all ends by a report getting refused or accepted. Now this is a school book case for doing state graph modeling. I would not find it strange of the developer had already created a number of such models for their own benefit, but as usual, there were none. Now I started to get excited. A really cool and useful model was to be created and I would be the father of it! Days like this are what make me happy!
Step 1) I read all documents I could find. I questioned the business users and got a pretty good picture of how they worked. Then I went to the developers and started asking questions about what statuses the manuscripts had at different points in the process.
Step 2) I created a state-chart and went back to the developers. The response I got was that they wished they had done that themselves before and they instantly saw a numbers of changes that would make their programming easier.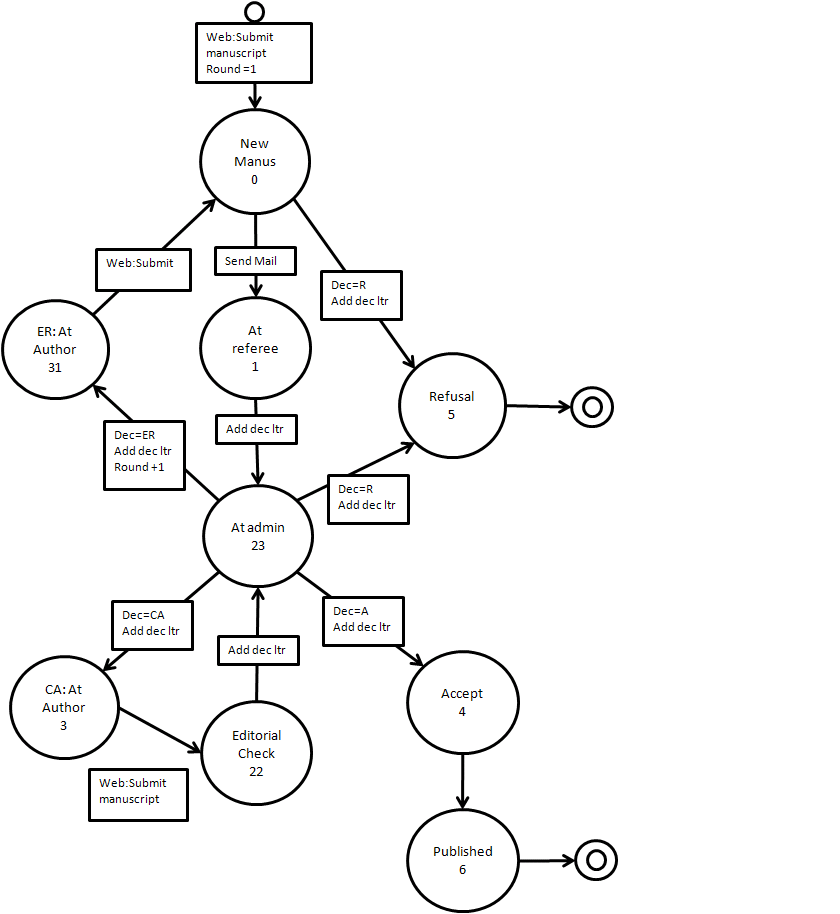 Image: The state graph as it is right now
Step 3) Creating a detailed state table. One thing I really like with this technique is that is very close to actual design of the code. The manuscript is in one state and then something happens that put it in another state and also a number of parameters should be updated. The manuscript is new, state 0, the admin selects editor and referee and presses button send mail. Now status should be changed to 1, e-mails sent to all selected referees and editor and a notification sent to the author the evaluation has started. When in state 1 and additional referees are selected, send mail notifies only the new people etc. This turned out to be one of the most important parts of my test design and the group solved a lot of issues together. So before I had executed any test cases at all I have already helped making design changes and found some serious omissions. I keep on asking questions like "What if this happens when I am in that state".

Image: small part of the state table.
Step 4) Test execution. I listed a number of test ideas and ran each idea in a session inspired by SBTM. Logging was done in Word since this supports adding screenshots. I did start with the SBTM notepad format that can be analyzed but soon realized that there were so few logs and only one tester, that the benefit of logging text and pictures in the same place was better for me. So my form of exploratory testing is to have test ideas and test design models. The only scripted test cases we created were for the demo where the goal was to show that it worked. Needless to say we got some questions during the demo and deviated from the script…yeah it would have been good to test it some more before the demo.
Step 5) Continuing the project we realized that some additional functionality needed to be added to make it work smoothly. More specifically we added a new status 6 – published. This helped us a lot in selecting what manuscripts to show on different screens. The state model made it very easy to see the effects of our changes.
To summarize this: state models help finding bugs before executing test cases, they help clarifying the design, they guide me during test execution with overview and detail on a couple of pages and they are a great support when evaluating changes to the application. C'mon, how can you not be Excited by this Hot Super Model!