I believe there is too much focus on test coverage , there is even an axiom about the need of it.
My reason is that no coverage model captures what is important.
Cem Kaner lists 101 possible coverage models (Software Negligence and Testing Coverage), and none of them are super-good to me (my favorite is an expansion of no. 89: Potential Usage, which is impossible to measure.)
A dangerous example is coverage by amount of planned tests performed, which easily gives too little exploration, and less ambitious testing efforts.
Test coverage is about planning, precision, measuring and control; which isn't the best match for things that can be used in a variety of ways, with different data and environment, and different needs.
Sure you can make use of them, but if you rely too much on them, you will have problems in an industry of uncertainty like software development.
The over-emphasis can be shown in the following ISTQB quote:
"Experience-based tests utilize testers' skill and intuition, along with their experience with similar applications or technologies. These tests are effective at finding defects, but not as appropriate as other techniques to achieve specific test coverage levels or producing reusable test procedures."
(implying that you can't really rely on these methods that merely) find defects (and important information.)
I understand that coverage models can give confidence to the decision makers, but how often are these used in reality?
Aren't release decisions rather made based on how you feel about the facts you are presented with; and it is specific bugs that can stop a release, and external factors that push a release?
If so, isn't focus on coverage model sort of wasted?
And if it brings a slower testing with less result, it is something to try to get rid of?
As an alternative, I present my 95% Table: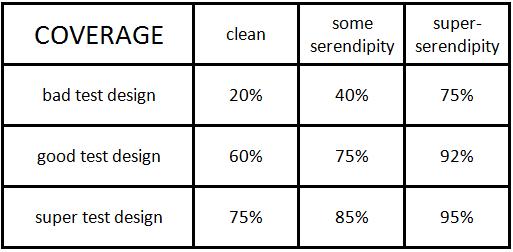 The measurement used is anything you want it to be, and of course practically unusable.
– SO HOW ARE WE GONNA REPORT STATUS? I hear shouted.
In a different, and better way.
I'm not sure how, but I want to be close to what's important, and far away from John von Neumann's quote:
"There's no sense in being precise when you don't even know what you're talking about."