Who makes the decision that the product is ready for release?
There are many different cases of this situation, here are a few examples.
In some companies it is the QA department that makes this decision. This means that it is QA that takes the risk for the release. It also means that if something happens after the release it is QA that is to blame for making a "faulty" decision. I've been in situation when management said "Why did they not test that?" or "How could they miss that area? It was so obvious.". If this happens QA will be worried more about what the rest of the company will say and will in some situations say that the product is not ready for release just to avoid possible blame. Does QA have the authority to get longer time to test, are they able to get more bugs fixed, what authority does QA have?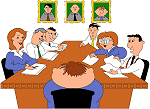 In some cases it is the project itself that makes the decision where the whole group (developers, testers, project manager and so on) decides. This means that the project and most often the project manager him/herself takes the risk for the release. So, the blame will fall on the project and its members. Is the project able to get resources, time etc if need be? In most cases no.
In other cases it is management or a release team consisting of managers from all departments that makes the decision. This means that someone outside of the project makes the decision for the release. It also means the blame will fall on this team, not the project itself. It is also common that this team can affect resources, time etc for the project.
We also have the absurd case where no one makes the decision. The release just happens and no formal decision was made. In this case it is more of a bad process issue that this happens. Management is responsible unless the project manager has the formal responsibility in these situations.
If you are unsure who makes this decision you really need to discuss this with management. Someone must take the risk and responsibility for releasing the product. I recommend that it is management or a release team that makes this decision, since they have the authority to make changes. This naturally leads into the role of QA, are they Quality Assurance or Quality Assistance (as Cem Kaner so nicely put it)? I think that if testers can avoid making this decision it will make their life a lot easier.