I hope many of you are using SFDPOT (James Bach) and CRUCSPIC STMP (thetesteye.com) in order to investigate what to test. SFDPOT describes elements of the product, and CRUCSPIC STMP describes sought attributes of the system. They are very powerful ways to identify things to test, plus to be able to communicate it effectively.
Both are very rich, and could incorporate each other, e.g. SFDPOT could be a part of Capabilities, and CRUCSPIC STMP could be a part of Operations (often inverted as a risk) There are more connections, as seen here: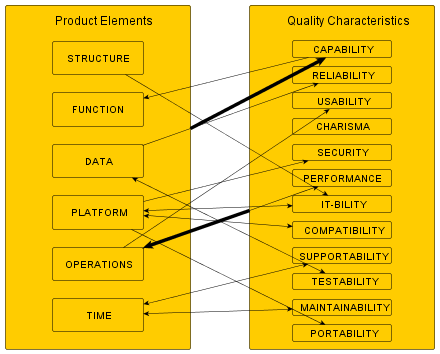 I still recommend using both as separate activities, they stimulate thinking in different dimensions (and that's why testers are needed, right?) That they blend is not a problem, it is the thinking that matters, so just put the stuff where it makes most sense.
If this makes almost no sense to you, interpret as a hint to try both!